by Betsy Lehndorff
https://www.facebook.com/betsy.lehndorff
Yes. I am starting this blog off with a secret — and there is no way to say this tastefully, but deodorant is an essential item if you are selling at summer art fairs. That and two pairs of comfortable shoes, as Lexi says.
Although the last two days were so cold we needed to wear jackets, Thursday was much different. The skies cleared, the sun poured down at 8:30 a.m. and soon some of us were dripping from the exertion of putting jewelry out for display. Luckily, Michigan Silversmith Guild organizer Mary Kernahan produced a can of Degree from a bin.
We all got a good laugh as I lined the can up for a beauty shot, and it got the day off to a great start. By 10 a.m., we were slammed with customers, and $10 and $15 items were selling extremely well.
I was also very busy booth sitting. The Ann Arbor Art Fair is one of the biggest in the country and as members of the guild we offer to "booth sit." In other words, if a vendor is working alone and needs a break, we come around about three times a day and watch the booth while they get food or freshen up.
I have a regular group of vendors I do this for, and most of the experiences are good. When they weren't as busy this afternoon, I took a moment to ask them questions about being successful at art fairs.
Marie Desjardins of Louisiana
Well. I wasn't able to talk to her. She was soooo busy I had to wait 10 or 15 minutes before she could get a break from her customers and get out of her booth. Eventually I was able to take over and rang up more than $150 in sales while she was gone, although this was risky. I didn't do a perfect job. So I think one secret to success is to have a friend available to help out once in a while.
But I think Marie was happy. Despite being exhausted and spread thin, she said Thursday's show was like the way they used to be – lots of traffic and lots of sales.
I did find Desjardin's work interesting. Her pieces were inexpensive – made out of base metals, recycled materials and budget-friendly beads priced $20 and up. And she had tons of inventory crammed into a cozy homemade booth. She also does numerous shows a year and has several shows coming up in the next few weeks.
Scott MacDonald, Klickitat, Wash.
Scott and his wife have been doing shows for 17 years. They also wholesale their work.
You can find images of his pebbles and cast birds at https://www.etsy.com/shop/rebeccabashara
So if anyone knows how to do a show right, he is a good source. His booth is simple, easy to set up and take down. It's also artistic and clever. He gets comments about his displays and they fit well with his matte finished sterling silver jewelry embellished with matte- finished river pebbles. For a background, Scott served as an apprentice to his father, who was a sculptor, and his wife has formal training as a metalsmith.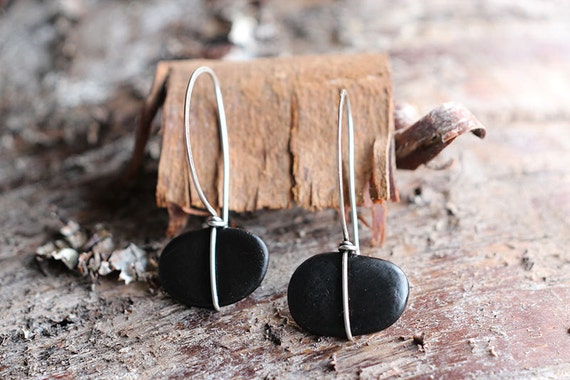 The key is creating a niche and finding the right market for your work, he said. But you usually don't know how well your work is going to sell until you do a show.
In Ann Arbor, his sales have been very good.
"Half of it is return customers," said Scott, who has been coming to the fair for seven years. "We also make new work all the time."
He and his wife also sell wholesale – and between the shows and their business, that is how they make their living rain or shine.
"It's easy to get down, so it's important to be professional and have a good attitude," he said.
There also is no way to do a test market for an art fair or much in the way of research, because artists can change every year.
"I don't know how much research you can do without doing a show," he said.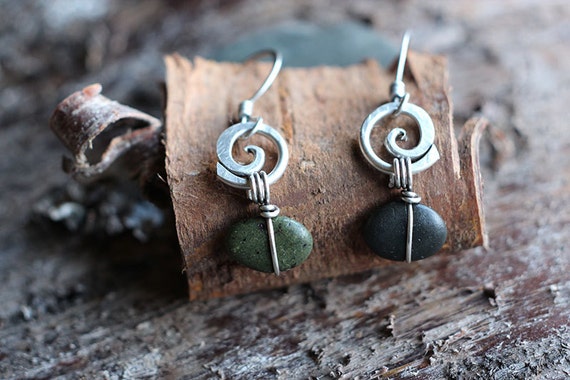 Some artists check out a show a year ahead of time, but because of travel distances, Scott doesn't. Of course, after 17 years on the circuit, he has a pretty good idea of where he is most wanted.
"You don't know until you check it out," he said. "You have to be willing to do an exploratory show and fail. I don't know how much research you can do without doing a show."
Chelsea E. Bird, Pawtucket, RI
Chelsea is bright and upbeat and dressed in a simple, beautiful shift that goes well with her simple display and simple, elegant jewelry. An enamellist, she makes tiny pendants out of textured silver and filled the voids in with colorful vitreous enamel.
As simple as her work looks, enameling is labor intensive, requiring repeated steps and firings.
"The Ann Arbor Art Fair is one of the biggest in the country," Chelsea said, and likes the venue because "this show seems to have the most youthful and colorful vibe and that seems to fit my work."
Bird does 20 to 25 shows a year, so silversmithing is her bread and butter. But to succeed, the secret is to be persistent, she said.
"There are an awful lot of people out there making jewelry and it takes a lot of ingenuity to make your work stand out," she said.
Bird also received formal art training, and maintains a deceptively simple booth, with people lined out the door. She, like DesJardins, stops a lot of art show patrons in their tracks.
Mary Ann Fredericks, California
Mary Ann's booth is even more pared back and, in fact, is difficult to photograph, especially when she asks not to be included in the image.
And this is intentional, because she embraces the concept that less is more. Her booth also is easy to set up, and yet is airy and artistic.
Mary Ann suggests a book titled The Paradox of Choice.
"If you offer people too many options it increases expectation and lowers satisfaction," she said. In other words, with so much inventory to choose from, customers can feel disappointed that they made the wrong choice after the sale.
"In a show like this, it's just overload," she said.
Mary Ann also is a university trained artist, and does 8 to 10 shows a year. She also teaches, and wholesales her work. She does not do custom or repair work and instead focuses on her own vision – making a name for herself as a craftsman in the industry.
There is one other thing that she has – Mary Ann got a degree in art history at the University of Michigan, so she has really educated her eye to edit her visual world and create a truly unique jewelry for a select audience.
These are just four different ways, four different outlooks and four difference experiences. Yet each artist says the show for them so far has been successful.
Too Fantastic Not to Share
B
One more thing. Silversmith Lesley Di Piazza put on a short black dress, apron and heavy boots and joined two blacksmiths to hammer a piece of red hot iron in rotation this afternoon. The blacksmiths work in the booth next to ours and are connected with the College for Creative Studies in Detroit.
Wubbers University instructor Betsy Lendorff is a journalist by day and silversmith during her spare time.  Mostly self-taught, she like to make beautiful narrative pieces that are very detailed and a challenge to solder.  She also occasionally writes for Lapidary Journal Jewelry Artist magazine and other special interest publications.  You can view pictures of her work and enroll her in Wubbers U classes here.