One way to expand your jewelry making business or help fund your hobby is to teach jewelry making classes. I've taught jewelry making classes in a variety of venues, from home parties to national conventions and have been a student as well.
Teaching jewelry making classes takes your maker skills in a whole different direction. You have to break down the process of making something you know very well and present it in a way that makes sense to your students.
Patti in a class taught by Michael Thee and Mary Wohlgemuth
Preparation and communication are the keys. Students will need a supply list ahead of time so they have what they need for class. In addition to specific materials like 1-ft of sterling silver wire, it's also helpful to suggest tools like the Wubbers ProLine Travel Kit and Free Zipper Case because students take your recommendations seriously.
You'll also want to send students an email reminder before class that includes general information like, "our classrooms are cold, be sure to wear layers," or other relevant tips that will help them feel comfortable and successful.
On the day of the class, set the stage by welcoming everyone as they enter the studio or classroom. Provide a step-by step handout that they can use to follow along and make notes, making sure to include your website and social media contacts and hashtags. Encourage students to look at your class samples as they're settling in.
Once the class is rolling, be ready to interact with students at different levels of expertise. Some people will need a very elementary introduction to what you're doing, while others will really want to pick your brain about your techniques.
Roy Talahaftewa providing instruction to a student.
Instructor Jeff Fulkerson says, "As the teacher, realize that there are students who have sacrificed a LOT to take your class; time, vacation day(s) money, fear, so give them their money's worth. To me, that means give them all the info they ask for, even if it isn't in the class syllabus. You also have to walk the fine line between helping your students and doing the work for them. Fight the urge to say 'Oh, just give me that!"
A student working while the teacher advises
After your class, it's time to reach out to your students again with a quick survey and request to join your email list and/or follow you on social media. Include links to your next classes and online shop. Share photos that they can post on their social media.
Remember to make notes to yourself about the class so you can be even better prepared next time. And, be sure to unpack right away so you don't end up like me – I have a class box still untouched from 2015! Once you unpack, you can even offer any extra materials for sale in your post-class email.
Whether teaching jewelry making classes adds an income stream to your jewelry making business or helps supplement your jewelry making hobby, it's a great way to expand your skills and share your passion for making jewelry.
~ Katie Hacker
Patti Bullard and Katie Hacker on the set of Beads, Baubles, & Jewels
Thank you for this wonderful article,
Katie Hacker
! Katie is the host of 
Beads, Baubles & Jewels
 on PBS. She specializes in bead stringing and wire-wrapping – and she might start unpacking that class box soon.
We were thrilled to see so many of our friends at Bead&Button 2018! 
Even more exciting was seeing our friends win recognition for their work!  Our very own Wubbers University instructor, Debbie Benninger, entered this mesmerizing copper wire and handmade glass bead dragon in the International Metal Jewelry Artist Wire Competition, winning a second place award for this gorgeous creation!
It took Debbie roughly 3 weeks, of 12 hour days, to complete this beauty. 
Debbie has had experience with making specific parts of dragons in the past, but this time her focus was on the body and tail, making sure each bead of the body hinged correctly to allow for fluid movement.
Mary Ann Helmond of MA Beads designed and made all of the glass Debbie used on this dragon.  This creative collaboration is inspiring to say the least!
Oh and did we mention…this dragon was made using Wubbers!!
As spectacular as these pictures of the dragon are, seeing the dragon in person, was ten times more mesmerizing.  Just to give you an idea, the dragon's head is the size of an iPhone and it took Debbie adding to it at least 3 times to get him to scale with his body.
The versatility of this piece is an added bonus. If you add the second necklace, he turns into a belt!
We offer Debbie all of our most sincere congratulations!  This is an award well deserved!
About Debbie
Debbie Benninger was born and raised in London, Ontario, Canada. She has been involved in a number of creative crafts all of her life including scrapbooking, cross stitch, furniture restoration, knitting/crocheting and had a dollhouse miniature business, where she also taught classes.
With a hunger for knowledge and new techniques, she considers each day a success when something new is learned. Debbie invites you to come on this journey with her and to not hesitate to contact her about any question, big or small.  Debbie truly loves what she does!
Debbie currently teaches classes out of her home in Canada and can be reached through email at idjewelryanddesign@gmail.com
Always remember to be "InDividual by Design"
With a strong interest in living simple, I have been really searching for the meaning in everything that takes up space in my house.  Clothes, my children's toy, kitchen gadgets, books…these are all easy to dispose of for me.  The hardest seems to be the jewelry (hmm go figure).
I have jewelry boxes full of memories, things that sparkle, and pieces that speak to me.  However, the items that are hardly ever worn are several brooches and clip on earrings I have inherited from grandparents.
Then it hit me…
My children always have artwork, pictures or calendars that need to be hung on the refrigerator.  Why not take my grandma's old brooches or clip on earrings that currently do nothing and make them into magnets that will be cherished and seen every day?
It is important to consider a few things before restyling vintage pieces. 
If you are a collector, a vintage piece may actually hold some monetary value.  Do not cut or damage your piece if you are not okay with the possibility that the value of the piece with drop significantly.
Once you alter the piece, there is no going back.  If you accidentally damage it in the process, are you willing to say goodbye to the piece forever?
The two pieces pictured below actually came from my grandmother and my husband's grandmother.  They are made by Sarah Coventry which was recognized as the oldest direct selling jewelry company in the world. The fact that I inherited each piece from two relatives who never knew each other, lived in different states and had the exact same piece, is so special and meaningful to me that I would never alter or sell these pieces.
Initially I was nervous about removing the pins and clips from the brooches and earrings I had picked out to alter.  I did not want to damage the front side of the pieces as some of them are over 40 years old. I bent, sawed and carefully filed as much of the back as possible to make a nice flat backing to glue the magnet onto.
Since the brooches and earrings were so old, I found the backings came off with very little effort. 
Once I filed down the rough edges and created a flat surface, I glued magnets to the backs. I used round magnets with 2 part epoxy Gorilla glue and the process was easy peasy!
I love the outcome!
Not only can I have fond memories to recall every day while enjoying new artwork my children create, but these also make perfect gifts.  The enjoyment can be shared with any family members who may feel connected with the special memories as well.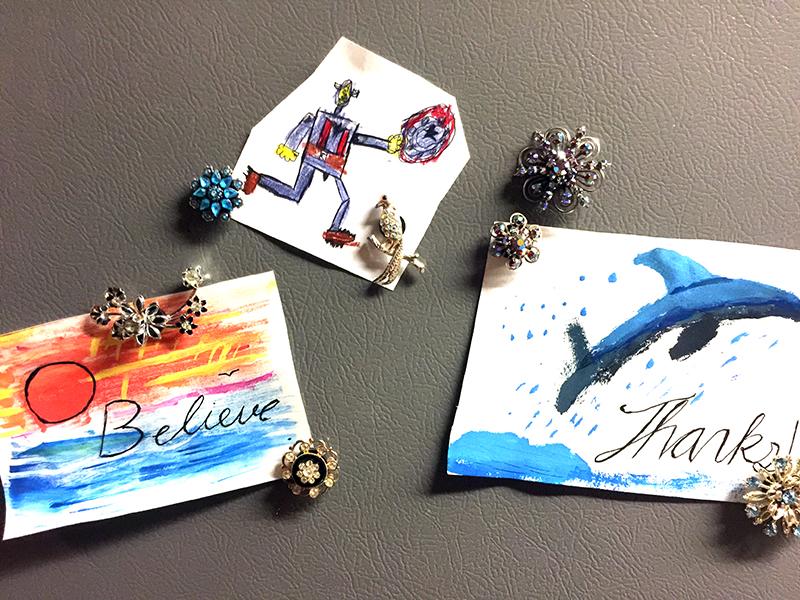 Finding joy in the journey,
We wish you a Happy Mother's Day!
(Patti Bullard and daughter, Laura Scott)
For about 40 years now, a line of ten half-buried Cadillacs have welcomed millions of visitors along the infamous Route 66. Just west of Amarillo, Texas, Cadillac Ranch has seen its fair share of dirt, wind and paint clouds.
In the true spirit of creativity and art,

visitors are encouraged to deface the Cadillacs by spray-painting the bodies of the half-buried cars.  When my family moved into the area, we couldn't help but partake in the tradition.
There is something freeing and exciting involved in spray painting a car…
even if the next person will come along in five minutes and paint over your masterpiece.
My children and I have been more than once to let our creativity sore.  The picture below is of my son, when he was just three, painting the cars.  Look closely in the background and you will see my other son who couldn't help but get carried away with painting his shirt as well!
Most recently I have been intrigued with the thought of turning the paint chips from Cadillac Ranch into cabochons, similar to what most people know as Fordite, but calling it Cadilite.
There is a local Amarillo artist by the name of Bob Lile who has been doing this very thing for three years now.  He sells his Cadilite jewelry all over the world. Inspired by his work, and with the weather beginning to warm up around here, I headed back out to the Ranch to gather paint chips.
As the layers of paint build up on the cars,
the drippings grow rather large and some eventually fall off.  People will climb to the top of the cars for the perfect photo opportunity, knocking layers of paint off as well.  It is not difficult to find paint chips lying around, especially when it is estimated over one million visitors come through Cadillac Ranch per year.
I gathered my goods and came home to begin making cabochons! My face mask was secure and eye protection was in place as I sawed, filed, and ground away layer after layer of paint.  Each color telling a story in my mind…what word, or picture, or memory did my paint chip hold?
The results were astounding for my first try at this! 
They are by no means perfect but I am happy to share the results with you if it inspires you to branch out!
The Cadillac Ranch paint can be quite brittle as it is not the same standard of Ford factory car paint that creates Fordite.  To obtain the shine, after designing the look I wanted to accomplish, I spray painted each piece with an acrylic top coat.  I also found warming the pieces in a small toaster oven in a well ventilated garage softened the pieces enough for me to flatten the cabochons when desired.
I will admit, this is messy.
It is so important to wear the proper protection from breathing in the
dust and fumes.  Although these pieces are one of a kind, and have special meaning, this is not a career I will be pursuing, as the talented Bob Lile has, but it sure is fun to explore and learn new techniques!
And, if you are ever passing through Amarillo along Route 66, take a few minutes to make your mark at the Cadillac Ranch. Who knows, I may just be out there and say hello!
                   Finding joy in the journey,
Please welcome guest writer, Katie Hacker!
Katie Hacker has been wire wrapping for a long time and there is still a whole world of wire to explore. Katie is the content strategist for Halstead and hosts Beads, Baubles & Jewels on public television. Today, Katie shares tips on how to buy sterling silver jewelry wire.
Thinking about buying sterling silver jewelry wire? There are a few important things you need to know before you make your purchase. Sterling silver jewelry wire is available in a wide range of tempers, gauges and shapes, which you'll choose based on what you want to make.
About Sterling Silver Wire
"Sterling silver jewelry wire is an alloy of 92.5% silver. The remaining 7.5% is usually copper, though sometimes other metals are used. The other metals are added to the alloy to increase the hardness, so the metal will be more durable, and to create the color and luster that is so prized by consumers," says Hilary Halstead Scott, President of Halstead.
Sterling silver jewelry wire can be soldered, formed and annealed. You can use it to make your own findings like head pins, eye pins, jump rings and clasps or you can use it to do wire wrapping, make rivets, bezel-set stones and more. It is wonderfully accommodating and versatile for a variety of techniques.
Jewelry Wire Temper
Dead soft wire is easy to bend with just your hands. Unless it is a very heavy gauge, it doesn't hold its shape without work-hardening. Use dead soft wire to make loops and spirals. Once you have finished forming the wire, you may wish to harden your shapes by gently hammering with a rawhide or nylon hammer. This will work harden the pieces, so they hold their form. Otherwise, the dead soft wire can be easily bent out of shape.
Half-hard wire is more difficult to bend. It's the standard choice for components that need to hold their shape, like earrings or clasps. Use half-hard wire to make crisp angles.
Jewelry Wire Gauge
Gauge refers to the thickness of the wire. The higher the gauge number, the thinner the wire. So, 24-gauge wire is thinner than 12-gauge wire.
The word "gauge" was originally based on the number of times that a wire had to be pulled through a draw plate.  That's why the thinner gauges have higher numbers and thicker gauges have lower numbers.
The gauge you'll need depends on the design you have in mind. If you want to make your own rivets, 14-18-gauge is a good choice. For ear wires, 18-20-gauge (work-hardened) is common. For wire wrapping, fine gauges 24-30-gauge are best.
Jewelry Wire Shape
Round wire is the most prevalent style of wire because it's so versatile and used for everything from wire wrapping to making findings and bracelets. All of the Wubbers Mandrel Pliers work well with round wire. It can be hammered or run through a rolling mill to flatten it for a different look.
Half-round wire is domed on the top and flat on the bottom. It's perfect for using as a binding square wire when making wire wrapped jewelry. Large gauges can be used to make finger ring bands or ring shanks.
Square wire is often used for portrait settings or other types of wire-wrapped designs where several wires are bundled together. Because the wire edges are square, the wires will lay flush without gaps. Make crisp right angles with Wubbers Designer Square Mandrel Pliers.
Gallery wire is typically used to form bezel settings, but it can also be used in other jewelry making applications, such as decorative bails or soldered embellishments. If you are using the gallery wire to bezel-set a stone, you'll need to consider the height of the stone when selecting the wire width.
Pattern wire makes beautiful finger ring bands using Wubbers Extra Large Round Mandrel Pliers, custom bangles and other creative jewelry. It's commonly used with a patina to highlight the decorative details. The pattern is only on the front side, so the back is plain and flat.
Fancy wire is round wire that has been put through a secondary process, such as diamond cutting, shaping or twisting. The surface of the wire has a texture and is very shiny because the extra surfaces reflect the light. Fancy wires can be used for wire wrapping, making components, and to make lovely double bezel embellishments around the outside of a bezel setting.
Flat wire is perfect for making finger ring shanks, bails, bracelets, collars and more. The surface is plain and shiny so you can leave it as-is or use a Wubbers Artisan's Mark Texture Hammer to decorate the surface. It's also ideal for hand stamping.
Caring for Sterling Silver Jewelry
Sterling silver jewelry tarnishes when exposed to sulfur and other compounds that are common in the air and water. Once you've made your amazing jewelry from sterling silver wire, you'll want to take care of it. Here are some tips:
Don't swim, shower, sweat or sleep in your sterling silver jewelry.
Avoid contact with perfume, makeup, lotion and hairspray.
Use a silver polishing cloth or ultra polish pad to remove tarnish.
If your wire is textured, use a spray or a dip to clean it. Be careful to avoid stones or pearls.
Store your jewelry inside a bag with an anti-tarnish tab.
Please welcome guest writer, Erica Stice.  
Erica Stice is the Studio Coordinator at
Halstead
, a wholesale jewelry supplier and proud
reseller of Wubbers pliers. She teaches metalsmithing classes to the Halstead team in their on-site jewelry studio. Her designs have appeared in Lapidary Journal, Belle Armoire and Beadwork Magazines.
Making Sterling Silver Pattern Wire Ring Bands
You can make a lot of great hoops, loops and round jewelry findings with Wubbers Mandrel Pliers; but, did you know you can also shape rings made out of sterling silver pattern wire?
Playing in the studio the other day, I picked up our Wubbers Jumbo Round Mandrel Pliers and a piece of pattern wire, and began to shape the pattern wire around the smaller mandrel. The
sterling silver pattern wire
that I used was dead soft and I was pleased to see it wrapped around the 18mm jaws fairly easily. I knew then and there that it would make a great tool to use when making pattern wire ring bands. Rings are trending so now is a great time to explore ring making techniques
Step 1: 
Choose the jaw size that you wish to use for the band. Next pick out a pattern wire. Because I wanted to match the pattern on the wire so the soldering join blends together, I chose a 3.5in piece of wire and the 18mm jaw. I had plenty of wire left over on either side!
Wrap the wire around the jaw, if it becomes work hardened use a rawhide hammer to help shape it.
Plan where the cut(s) will be and mark them with a permanent marker.
Step 4:
Use a jewelers saw or your favorite cutters to cut just along the outside of the previously marked spot. You will want it 1-2mm longer than needed.
Step 5:
Straighten out your wire by hand or with a rawhide hammer, then place it in a ring holder with 1mm or less hanging over the edge (make sure the wire is lined up straight inside the ring clamp). Insert the wedge tightly at the other end of the clamp.
Step 6:  
Use a flat file to file away the small piece of pattern wire sticking out at the end of the clamp. This is a quick way to file a piece of wire flat. Repeat with the other end of the wire. This step is important so you will have a tight fit to get a good soldering connection.
Bring the two ends together using nylon jawed pliers and make sure the ends lie flush together at the join. Don't worry about the ring shape at this point. You will round it out later.
Flux, add a piece of medium solder, and heat until it flows. Pickle, quench and dry.
Re-shape the ring using a ring mandrel and rawhide hammer. When finished it should fit perfectly on the jaw of the mandrel that you used.
Clean and polish up your ring and you're finished!
When all was said and done, the mandrels saved time and you could knock out several rings at once without needing to use calipers and the formula. Also the jaws are not tapered like a ring mandrel so you could shape it on the mandrel jaw at the end for a perfect round stacking ring.